To mark the 40th anniversary of Vietnam-Japan Friendship Year, the Japan Foundation Center in Vietnam will organize a concert titled 'Drums and Voices' from October 17-18 at the Au Co Art Center in Ba Dinh District in Hanoi.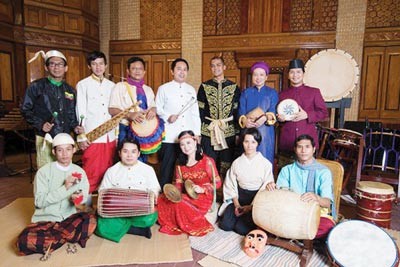 Artists participating in the concert in Vietnam (Photo:SGGP)
This is a special musical performance with elaborate arrangements that will attract the participation of 12 percussionists from Cambodia, Myanmar, Thailand, Laos, Brunei, Japan and Vietnam, aimed to exchange cultures of all the countries as well as introduce unique folk instruments of each country.
Participating in this performance are two Vietnamese artists in the field of traditional percussion including Elite Artists Mai Lien and Minh Chi who will introduce to the audience folk instruments such as T'rung musical instrument and large drums.
Besides this, the event will attract participation of famous artists, musicians, composers such as composer Tsubasa Hori (Japan) and artist Pyi Kyauk Sein (Myanmar). The program will be directed by famous Japanese composer, Michiru Oshima.
Artists have spent four weeks for training in Thailand and Vietnam from June to September for the performance. Audience will be enjoying many drum performances as well as percussion performances from ethnic groups of the countries, such as Chaiyam, Sampho, Thon, Rammana (Cambodia), Hsaing Waing, Kyi Waing, Maung Hsaing (Myanmar), Ranad Ek, Poengmang Khok (Thailand), Kong Hang, Kong Tum (Laos), Rebana, Tar, Gendang Labik (Brunei), Wadaiko (Japan) and so on.
After performing in Vietnam, the artists will continue to tour others countries in October and November.