Vietnamese American artist Le Quang Dinh received the Prince Claus Award from the Dutch Consulate General in Ho Chi Minh City on August 8 for his outstanding achievement in the field of culture.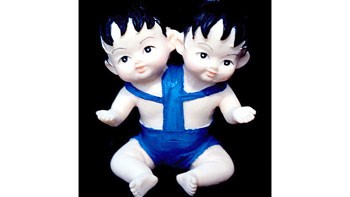 A work on 'Agent Orange' child victims by Le Quang Dinh
43 year old Le Quang Dinh moved to the US with his family when he was ten. He completed a BFA degree in photography from the University of California in Santa Barbara and a MFA degree from The School of Visual Arts in New York.
Dinh has gained success with his combination of modern graphics with traditional Vietnamese techniques.
The artist is particularly interested in the subject of war. He has a deep desire to convey messages of peace through his works.
One of his latest works, "East Sea Pishkun" (2009), depicts a helicopter falling into the sea as South Vietnamese troops withdrew from Sai Gon in 1975.
"I watched a tremendous number of films on the War in Vietnam, made by Americans. Most of them reflect the great loss and misery of the American people, but many generations of Vietnamese people still suffer from the aftermath of the war. These films did not inform fully about the true objectives of the War. When I was young and living in my country I believed that war was like death. It has affected me profoundly", said the artist.
Dinh is continuing to study Vietnamese history. He plans to make films and organize caricature exhibitions by veteran painters such as Huynh Phuong Dong, Vu Giang Huong and Quach Phong in future.
As one of the founders of San Art, a non-profit organization established in 2007 in Ho Chi Minh City, the artist expects to organize exhibitions featuring local and foreign painters, as well as support and encourage young talent in the country.
Dinh's works are on view in Bellevue Arts Museum in Washington, Asian Social Service Center in New York and in museums in San Francisco and Los Angeles in the US. Many works of the artist are on display at the Finland Arts Museum, Singapore Arts Museum and Fukouka Asian Arts Museum in Japan.


The Prince Claus Fund, launched in 1997 and based in Amsterdam, aims to expand insight into various cultures and promote a fusion of culture and development. The fund has so far presented more than 150 awards to artists worldwide, each worth euro 25,000.