The e-book market in Vietnam is still in its infancy and is growing far too slowly than e-book producers had expected, as Vietnamese readers have yet to acquire the habit of paying online for book content, seemingly a new and unfamiliar process for them.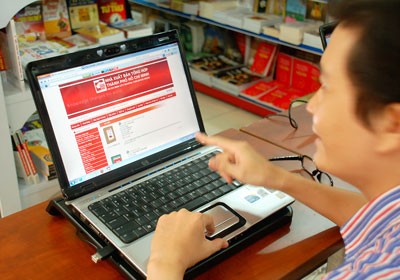 A reader visits e-book website sachweb.com of Ho Chi Minh General Publishing House. (Photo: SGGP)
E-books are not totally unfamiliar to local readers as these are easy to access online on several e-book sites such as, Alezza and Anybook.
Phuong Nam Cultural Corporation even set up an e-book store at the Vincom Plaza in Ho Chi Minh City to promote the culture.
However, contrary to expectations, the domestic e-book market has been slow to develop. Le Chi, director of Chibook, one of the first e-book publishers in Vietnam, said that sales of e-books were much less than of paper editions. Her company is producing e-books mostly to cater to local market demand.
The complicated and tedious procedure to buy and download an e-book is being blamed for turning off young readers, and preventing the e-book market from gaining popularity. For instance, at Alezaa.com, buyers have to register an account, deposit money and then transfer the content to a reading device.
Although e-book traders have applied security methods to protect their e-books from illegal reproduction, many newly published e-books have been widely pirated and freely available.
E-books are usually brought out one or two months after a new paperback edition is published, as all publishers are afraid of pirated editions that affect their business, said Ms. Chi. Thus, e-book readers hardly get to read the latest book at the same time as book store readers.
Nevertheless, readers' habits will always be the key to the success of the e-book business. Huynh Huu Nam, a member of e-thuvien.com, said that although he preferred e-books to paper backs, he had never bought an e-book to date but always downloaded free available content from the Internet.
Other members of tangthuvien.com also said that they always look for free e-book content on the Internet first, instead of spending money to buy e-books.
Although everyone knows that they have to pay money to download e-books or music, they still look for free e-books to avoid paying, said Vicas, a member of e-thuvien.com.
Despite the many set backs, most publishers consider e-books as the future of book reading. Many readers have changed their habit from reading paper editions to reading e-books, which is an indication that habits are beginning to change and the e-books market could generate revenue in foreseeable future.
In fact, the quality of free downloaded e-books cannot compare to original e-books. Currently, many e-books are pirated and uploaded by individuals from the Internet and their quality is far too inferior. Many free downloaded e-books cannot open pages with an easy click as would the e-book that has been purchased from a site. Besides, there could be paragraphs or words missing, which all takes away from the joy of reading.
Font and format error also cause trouble for readers who are not knowledgeable about computer technology. While with original e-books, readers will never have to face such problems.
The setting up of the an e-book website - sachweb.com - by Ho Chi Minh City General Publishing House has signaled a new age for the domestic e-book market.
E-book distributors have also found feasible solutions for e-payment. Chibook Company has just signed a contract with Anybook of Viettel to settle payments through prepaid calling cards. Accordingly, when smartphone users buy e-books, the payment will be charged on their phone account.
Sale of e-books reportedly improved after the Ho Chi Minh City General Publishing House offered payment facility via prepaid calling cards.
The domestic e-book market is expected to develop strongly and contribute a great deal to the diversity of the local reading culture, as e-books and reading devices have become more diversified and cheaper with the participation of many big publishing houses, while payment methods have been simplified and made more convenient.
It is not easy to find an old book but in the e-book market it is simpler to access old titles. Tre Publishing House and Ho Chi Minh City General Publishing House have coordinated with General Sciences Library of Ho Chi Minh City to digitalize all books published by them since their establishment. Other publishers are also interested in producing e-books from old books because of low costs, and because their demand is high. E-books digitalized from old books will help to increase the diversity of the e-book market.