The inhabitants of Cairo and Alexandria were treated to a full day of Vietnamese culture on September 30 through the first Viet Nam Cultural Days held in Egypt.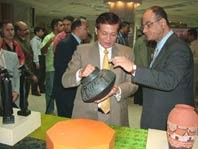 At the art show "Vietnamese Space"
Besides stage performances of traditional music and dance by Vietnamese artists, there were exhibitions on Viet Nam's ethnic minorities, economy, and achievements in the last 20 years.
Then on Monday an art show called "Vietnamese Space" was opened at the head office of the Egyptian Press and Media Union in Cairo by Vietnamese Deputy Minister of Culture and Information Tran Chien Thang and Egyptian Deputy Minister of Culture Anwar Ibrahim.
The exhibitions allowed the Egyptian public a close-up look at the colorful costumes of Viet Nam's ethnic peoples, their wood and bamboo musical instruments, and their sophisticated handicrafts and paintings.