Saxophonist Quyen Van Minh has a great passion for Jazz music. He has played many different kinds of music in 40 years, but Jazz is regarded as a destiny and reason for his living.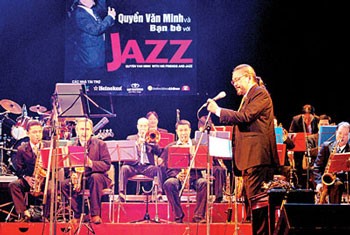 Saxophonist Quyen Van Minh (R) performs in a concert titled "Sensational Jazz" in HCM City.
Jazz music always shows my shortcomings and encourages me to continue to strive for perfection, the artist said.

Jazz music has an enough vehement attraction to make him leaving off other music genres and giving the whole mind to Jazz performing and teaching.

Owing to Vietnamese artists' love for Jazz music and students of National Institute of Music who have studied music abroad as well as an increase of music lovers, Jazz music has achieved a remarkable advance, he said.

It is hardly to pursuit Jazz music. I'm proud of my son, saxophonist Quyen Thien Dac, who will be my successor. He graduated from the Berklee College of Music for performance jazz in the US and taught at the National Institute of Music. Dac now studies for a Master's degree at Malmö Academy of Music in Sweden, Minh expressed.

The saxophonist just held a music party titled "Sensational Jazz" featuring Vietnamese famous songs in Jazz style at Phu My Hung new urban area in District 7 on April 17 with attendance of hundreds of music lovers to affirm the strong development of Jazz music in the country.

Last year, I thought that I would participate in a performance together with my son, and then I will pay attention to teaching and composing Vietnamese folk music works in Jazz music style. But after the "Sensational Jazz" concert, I realize that I should organize new programs for young artists to show their talent and love for Jazz music. I hope that Jazz music will lure more music lovers, the veteran saxophonist said.