The Saigon Zoo will be brightly lit up with hundreds of lanterns during the "WOW" (World of Wonders) lantern festival taking place daily between December 31 and February 25. The show represents the cumulative efforts of more than 40 Chinese and Singaporean artisans.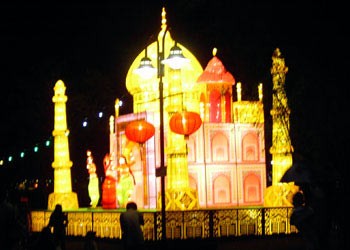 A lantern is designed to replicate the India's Taj Mahal.
The lanterns are designed to replicate animals, plants and world wonders including the Eiffel Tower, the Leaning Tower of Pisa, The Great Wall of China, the Pyramids of Egypt, India's Taj Mahal, and Viet Nam's Ha Long Bay-World Heritage Site to name but a few.

The festival will also offer all kinds of interesting activities including concerts, food festivals and games.

WOW was previously held for 20 days in Singapore during September and attracted more than 300,000 visitors.

The organizers, including XPR Communications and Phibious Company, hope that the festivals stint in Viet Nam will be an even bigger success.