Many interesting cultural activities during Tet Lunar New Year will take place at the Ethnic Culture Historical Park in District 9 in Ho Chi Minh City from January 19-25.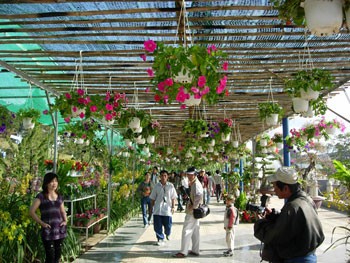 A flower fair attracts visitors with various ornamental plants. (Photo:KK)
The park will lure visitors with a Banh Tet (cylindrical glutinous rice cake) making competition on January 19 and a Banh Tet offering ceremony to King Hung Vuong on January 21.
A low-range fireworks display will be held on Tet Lunar New Year Eve on January 23.
Visitors will have a chance to enjoy various exhibits of bonsai trees, ornamental plants, orchids, cacti, apricots and peach blossoms in a flower fair from January 15-22.
There will also be folk games, music shows, kylin and dragon performances, besides painting, calligraphy and tea exhibitions.