The Department of Education and Training in the highlands province of Kon Tum yesterday organized festival of Gong, traditional xoang dance and costumes.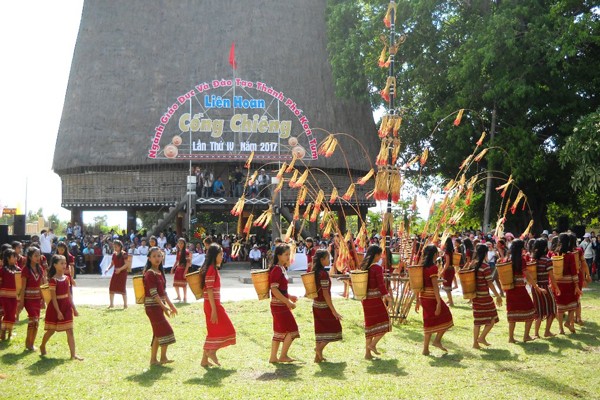 Ethnic minority students perform their acts at the festival of Gong (Photo: SGGP)
The festival took place in the big culture house in Kon Klor village of Kon Tum city. The fourth festival has seen the participation of 20 groups with more than 996 students from Ba Na, Gia Rai and Xe Dang groups in the province.
Participants performed 40 items of Gong, xoang dance and specific costumes. The highlights of these performances are rituals.
The event organizer presented flags and gifts to groups. The special prize was given to team of Pham Hong Thai and Nguyen Thai Binh Senior High School. In addition, the organizer also gave flags and cash to three for A prize, four for B prize, five for C prize and seven encouragement prizes to participating groups.
The festival is held every two years, aiming to preserve and develop ethnic minority people's cultural tradition in Kon Tum Province.