A performance of music from Vietnamese ethnic groups will take place at Hanoi's Au Co Art Centre on September 10, featuring performers from the Vietnam National Music and Dance Theatre.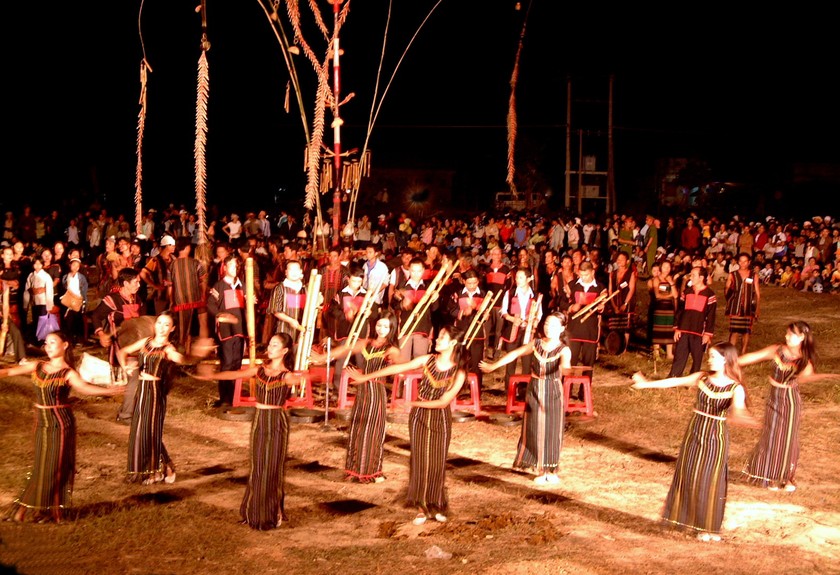 Ethnic minorities in highlands provinces performing a dance (Photo: U. Phuong)
The performance is part of an effort to preserve and promote the folk cultures of ethnic groups and introduce them to foreign audiences, said theatre representative Xuan Binh.
Entitled Huong Sac Vietnam (The Beauty of Vietnam), the show feature musical instruments, performance and dances selected to remove the language barrier for foreign audiences.
Traditional dances and melodies of the Dao, Thai, Tay and Mong people will be performed.
A dance entitled Men Tinh (Love Ferment), a piece about the love between young Dao men and women directed and choreographed by Quynh Duong and Kim Chung, will highlight the performance. The piece won the top prize at the Vietnamese Ethnic Dance Contest held last year, but this will mark its first performance for the general public.
People's Artist Xuan Hoach will perform songs in the hat xam style of blind men who used to wander the streets singing for alms.
Sponsored by the Ministry of Culture, Sports and Tourism, the show will include recognised intangible heritage such as ca tru (ceremonial singing), quan ho (northern love duets) and Central Highlands gongs, as well as other unique performances drawn from the country's 54 ethnic groups.