American national Richard Fuller, Vietnamese guitarist The Vinh, and singer Thuy Tien are on a charity tour around France and Germany from November 19 to December 7.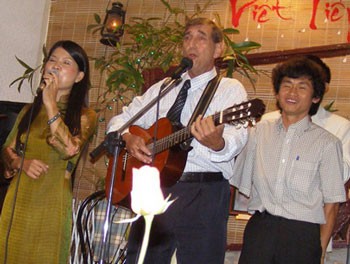 (From L) Thuy Tien, Richard Fuller and The Vinh in a show in Ho Chi Minh City (Photo:Tuoi Tre)
Their tour, called "Country and Human Love", is funded by Vietnam les Enfants de la Dioxine (VNED), an organization founded in France in 2001 to support children disabled by Agent Orange/dioxin.
In France they are scheduled to perform in Lille on November 22, Strasbourg on November 29, Cahors on December 10, Lyon on December 13, and Paris on December 14. In Germany they will hold shows in Stuttgart on December 6 and Frankfurt on December 7.
The three people, who are very popular among late musician Trinh Cong Son's fans in Vietnam, will perform songs written by the renowned composer.
VNED, which has 131 members, has sponsored 163 children, granted scholarships to 168 others, provided funds for 22 projects, and financed free heart operations for two children.