New trends in the European contemporary dance scene can be seen in a performance titled "Contemporary Dance–Europe meets Vietnam", at the Youth Theater in Hanoi on September 8-9.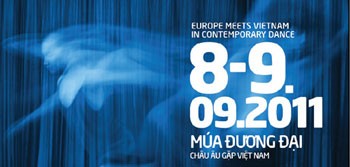 )
The show is being co-organized by the European Union National Institute for Culture (EUNIC) and the Vietnam National Ballet and Opera (VNOB).
"The Season of the Firefly", a new play by VNOB on different kinds of love will open the performance.
Ricardo Machado from the Belgian ballet dance group, "Dame de Pic/Karine Ponties", will present his première "Benedetto Pacifico" in Vietnam.
Karine Ponties pieces are played around the world, but this is the first time that she is presenting one for Vietnamese audiences, on special invitation of the Wallonia-Brussels Delegation.
The last piece will be "Death and the Maiden", a co–production of Vietnam and Germany by German choreographer Hans Henning Paar. The story tells about a young girl wooed by 'Death'. At first she resists but then gives in, finally leading her away from life.

Hans Henning Paar previously worked with VNOB to present a musical "Through the Valley", which was performed at the Hanoi Opera House in January.

The "Contemporary Dance–Europe meets Vietnam" program is hopefully going to be an annual event in Vietnam in future.
Free tickets are available at the Goethe-Institute, 56-58 Nguyen Thai Hoc Street, Hanoi.