The annual European Music Festival will be held at the Youth Theater in Hanoi and the Ho Chi Minh City Conservatory of Music from November 26 to December 7.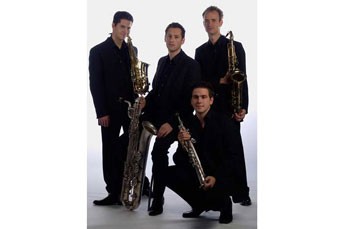 The German band Signum Quarter
Festival-goers will be treated to jazz, classical, world music and pop performances from numerous artists. Included in the lineup are local saxophonist Quyen Thien Dac, singer Tran Mai Hanh, and a Vietnamese traditional Bac Ha band. Also scheduled to perform are German band Signum Quartet, Duo Gazzana from Italy, and a host of artists from Belgium, Austria, France and the Netherlands.

The Ministry of Culture, Sports and Tourism is organizing the event along with the embassies of several EU member-countries and the EC Mission to Vietnam.

Admission is free. Tickets can be reserved and collected from November 19 at the Goethe Institute, 56-58 Nguyen Thai Hoc Street and French cultural center, 24 Trang Tien Street in Hanoi; and the Goethe Institute, 335/4 Dien Bien Phu Street District 3 in Ho Chi Minh City.