More than 50 ancient maps along with with several other historical documents proving Vietnam's sovereignty over the Hoang Sa (Spratly) and Truong Sa (Paracel) archipelagos are on display at the Hue Culture Museum in the central province of Thua-Thien Hue.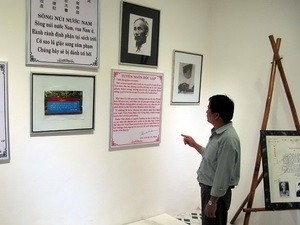 (Source: VNA)
The exhibits, dating from the 15th to the 20th century, hail from Vietnam, western nations and even China, which now also claims the islands.
Notably, many Chinese maps designed for administrative purposes, or for oil and gas exploration and transportation all show China's territory ends at Hainan Island and do not include Hoang Sa and Truong Sa archipelagos.
The exhibition, which opened on September 20, is also showcasing official documents from the Nguyen Dynasty, the last feudal government in Vietnam , along with old maps and records that show the country's sovereignty and management over these islands throughout history.
Photographs of members of the Vietnamese navy protecting the sovereignty of the sea and islands through economic, cultural and social activities are also on display.
The exhibition will run until October 20.