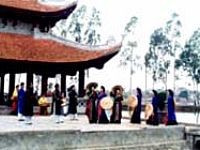 Co Bi Village's festival
Archaeologists from the Vietnamese History Museum began excavating the ruins of Co Bi Palace in Ha Noi's Gia Lam District today.
For now they are concentrating their efforts around Binh Minh Communal House, where antiquities in abundance were discovered in October.
Later on the digging will be expanded to select locations within a five-kilometer radius of the royal palace, which was also known as Kim Thanh, and will include excavating the tomb of Princess Truong Thai Phi.
Already the scientists have discovered traces of the Dong Son Culture along with dozens of structural relics from the Tran, Le and Nguyen dynasties.
When the Trinh lords built the huge palace in the 18th century, the location is believed to have borne the name Trau Quy.