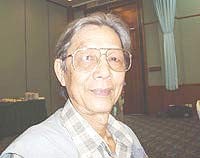 Musician Lu Nhat Vu
The most excellent musical works in 2005 in theory, research, criticism, instrumental music, and children's songs were awarded with prizes by the Vietnamese Musicians' Association on January 3, 2006.
Eighty three artworks in the said musical fields were chosen among 517 works of 320 musicians.
Traditional music forms in the field of theory, research, and criticism was studied and collected by most musicians. The first prize was awarded to Musicians Lu Nhat Vu and Le Giang with their artistic work entitled "Hat ru Viet Nam" (Vietnamese Lullaby).
In the field of songs, musician Tran Que Son won the first prize for his song "Cong me di choi" (Carry Mum pick-a-back).
Composer Tran Xuan Tien whose songs are for children, received the first prize for the song "Hat len ban oi!" (Let's sing!).