An exhibition on the late Party Secretary General Nguyen Van Linh is being held at HCMC Youth's Cultural House to celebrate his 95th birthday (July 1, 1915-2010). The display will run until July 8.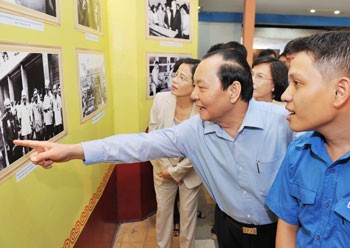 Secretary of the HCMC Party Committee Le Thanh Hai contemplates photos in the exhibition. (Photo: Sggp)
The display titled "Nguyen Van Linh- virtuous and creative communist" introduces to viewers 88 photos and many important documents about the late Party Secretary General Nguyen Van Linh during wartime and the Renewal process.
Revolutionary soldier Nguyen Van Linh was one of late Present Ho Chi Minh's most excellent students.
The Vietnamese people, the Party, armed forces, as well as international friends considered the late Party Secretary to be a prestigious leader.
The late Party Secretary General whose real name was Nguyen Van Cuc (or Muoi Cuc) was born in the northern province of Hung Yen. He lived and worked in the all three Vietnamese regions: North, Central and South.

He spent half of his life living and working in the South.
He was elected General Secretary at the Sixth National Party Congress in December 1986.
The exhibition was organized by the HCMC Organization Board of National Holiday, city's Exhibition Information Center and HCMC Youth's Cultural House. 

Secretary Le Thanh Hai and Deputy-secretary Huynh Thi Nhan of the Party Committee, Party Committee standing deputy secretary Nguyen Van Dua, Chaiwoman of the People's Council Pham Phuong Thao together with a great number of people and students in the city have attended the exhibition.