A photo exhibition marking the 100th anniversary of late Party General Secretary Nguyen Van Linh's birthday opened in Ho Chi Minh City on June 27.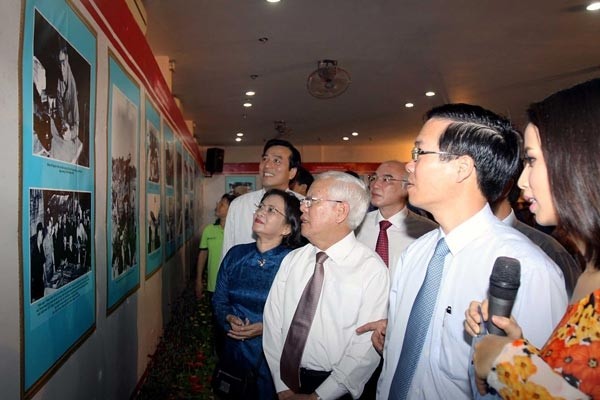 HCM City leaders visit the exhibition
The ceremony was attended by Chairman of the People's Committee of the city, Le Hoang Quan; Deputy Standing Secretary of HCMC Party Committee Vo Van Thuong; Head of the Department of Propaganda and Training of the HCMC Party Committee Than Thi Thu; Vice Chairman of the People's Committee, Hua Ngoc Thuan; Deputy Director of Standing Agency in Ho Chi Minh city of the Central Department of Propaganda and Training, Dao Van Lung.
The exhibition titled "Nguyen Van Linh- steady and creative communist" introduces to viewers 78 photos and important documents about the late Party Secretary General Nguyen Van Linh during wartime and the Renewal process.
Revolutionary soldier Nguyen Van Linh was one of late Present Ho Chi Minh's most excellent students.
The Vietnamese people, the Party, armed forces, as well as international friends considered the late Party Secretary as a prestigious leader.
The late Party Secretary General whose real name was Nguyen Van Cuc (or Muoi Cuc) was born in the northern province of Hung Yen. He lived and worked in the all three Vietnamese regions: North, Central and South.
He was elected General Secretary at the Sixth National Party Congress in December 1986
The display will run until July 5 at Ho Chi Minh City Youth's Cultural House and Nguyen Hue Street.