An exhibition entitled "Sea, Island, Navy-Ho Chi Minh Sea Trail-path of Vietnam's will and creativity" was held in the coastal city of Nha Trang in Khanh Hoa Province from September 18-19.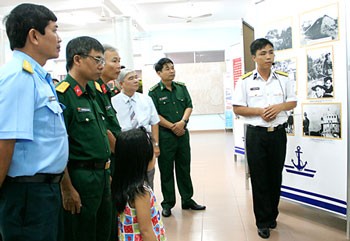 Visitors look at the exhibits (Photo:Sggp)
The exhibition marked the 50th anniversary of the Ho Chi Minh Sea Trail, which was established on 23rd October 1961.
The exhibition displayed 250 photographs, documents and objects that honor the contributions made by soldiers and the people of the coastal regions, from where the legendary Sea Trail ran during the American war.
The exhibition will travel to many cities and provinces including Quang Ngai, Phu Yen, Ba Ria-Vung Tau, Ho Chi Minh City, Ben Tre, Tra Vinh, Can Tho, Ca Mau and Hai Phong from September 12 to October 30.
From the time it was established on 23rd October 1961, the Ho Chi Minh Sea Trail fulfilled its mission in facilitating hundreds of ships to transport weapons, goods, medicines, cadres and soldiers from remote parts of the north to the frontline, bolstering people's contribution in defeating the US imperialists and liberating the south, subsequently reunifying the country.