The display called Net (Stroke) features more than 50 artworks from a collection of over 400 paintings that belong to the art collector Nguyen Phuc Huong. It is considered as the largest collection of the late artist.

The exhibition runs until September 24.
Painter Luu Cong Nhan is one of the big names in the world of Vietnamese fine arts. He passed away in Da Lat city at the age of 76 in 2007.
He left behind thousands of artworks, including watercolor, oil and do paper examples amongst many others. He was especially famous for his collections depicting Da Lat Villas, Ha Noi and Hoi An ancient streets, some of which had ever been on display in both local and foreign museums.
His works during the two national resistance wars were considered as examples of 'socialist realism' such examples include, Gai Que (Country Girl), O Du Kich Nho (Small-bodied Guerilla Female Fighter), Mot Buoi Cay (A Day on the Field) and Binh Dan Hoc Vu (People Learning).

Since 1985, the artist chose to live in Da Lat, where he worked right up until the end of his life. He has held many exhibitions at home and abroad and had received many prizes including the State's Prize in 2002, the First Class Labor Order, the 1951-1960 National Exhibition Prize and the 1959 Vienna International Exhibition Prize.

Born on August 17, 1931 in Lau Thuong village, Hac Tri district, Luu Cong Nhan graduated from the Indochina Fine Arts School in 1954, where he was one of the students of the great painter To Ngoc Van. Upon graduating, he became the Viet Nam's first abstract artist.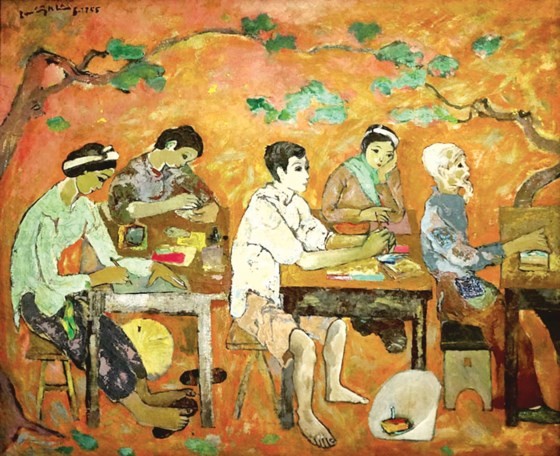 An oil painting on silk, Binh Dan Hoc Vu (Mass Education Program) by Luu Cong Nhan