Nearly 40 publications highlighting the time-honoured friendship between Vietnam and Russia are on display in the Hanoi-based Centre for Russian Science and Culture.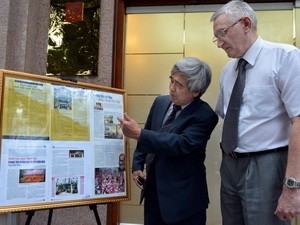 Writer-translator Hoang Thuy Toan introduces his works (Source: VNA)
The exhibits include photos, poems and articles translated from Russian into Vietnamese or vice versa by writer-translator Hoang Thuy Toan, who has spent most of his life and focused his love and career on Russia .
Addressing the opening ceremony on October 24, Toan, who is also President of the Translation Literature Council of the Vietnam Writers' Association, said the exhibition demonstrates the close relationship and collaboration between the two nations through historical ups and downs.
He said his years in Russia taught him how to live enthusiastically and honestly, helping him come to understand Russian literature's quintessence and introduce it to Vietnamese literature.
The exhibition, marking the 10 th founding anniversary of the centre, runs until October 25