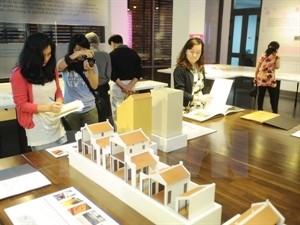 Visitors at the exhibition
The ancient streets of Hanoi capital and their changes over time were featured at an exhibition opened on April 17 in Hanoi.
The event, which is co-hosted by the Hanoi Ancient Quarter Management Board and France's Toulouse City, showcases a variety of exhibits, including photos, posters, maps and models collected by Toulouse experts since 2010.
The items represent the establishment and development of the ancient trading quarters and its changes and livelihood over time as well as restoration efforts.
Pham Tuan Long from the Management Board said the exhibition helps give local residents and tourists an insight into the Hanoi ancient quarter, contributing to the preservation and promotion of its value