The 11th HPIC 'Her Presence in Colors', a fine art exhibition featuring paintings by international women artists will be held in Ho Chi Minh City from June 21-27.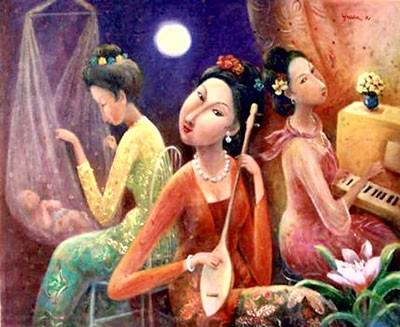 "Full Moon Ensemble"- oil on canvas by painter Yuen Chee Ling
This year's event organized by the International Women Artists Council themed "A new direction" presents women artists' creative views on global culture, humanity, women's daily activities and their interest in problems of social concern.
According to painter Dang Thi Duong, Chief Operating Officer of the event, the 10th exhibition which was organized for the first time in Ho Chi Minh City attracted 212 female painters, sculptors, art PhDs,  teachers from fine art universities and institutes of 23 countries and territories.
The organizers expect the event will be a chance to promote Vietnamese culture, tourism, landscape, cultural sites, and traditional villages to international visitors.
Local and international artists will take part in art exchanges and forums, visit Ham Long Traditional Craft Village in District 2 in HCMC and travel to Mekong Delta region.
The International Women Artists Council was founded in 1999 in Bangkok, Thailand by Malaysian painter Yuen Chee Ling. The association aims to create exchanges between artists throughout the world and promote global cultural development and international cooperation.
Painter Nguyen Thi Quang Vinh, member of the Vietnam Fine Arts Association, is the first Vietnamese artist who was invited to take part in the exhibition in Australia in 2004.