A painting exhibition featuring art works by Mexican and Vietnamese children is being held at the Hanoi Children's Palace until October 13.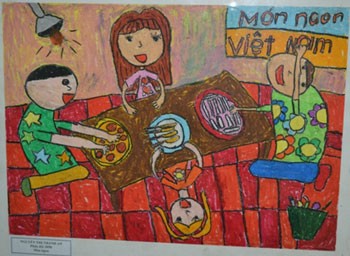 A Vietnamese child's painting at the exhibition
The exhibition titled 'This is my Mexico-This is my Vietnam' based on Mexican traditions and Vietnamese cuisine, presents 42 drawings of Mexican children living abroad and 42 Vietnamese children living in Hanoi.
The Mexican drawings are part of a children's drawing contest titled 'This is my Mexico', which today has become a tradition, involving thousands of Mexican children or of Mexican origin living around the world.
This year's theme is 'Traditional Mexican Cuisine: Intangible Cultural Heritage of Humanity' to mark the declaration by UNESCO in November 2010, and the 15th year of the Contest.
Vietnamese children were invited to illustrate what Vietnamese food means to them.
The exhibition is being co-organized by the Embassy of Mexico and Hanoi Children's Palace until October 13.