Historical maps and documents related to Truong Sa and Hoang Sa Islands are on display at an exhibition in the northern central coastal province of Ha Tinh.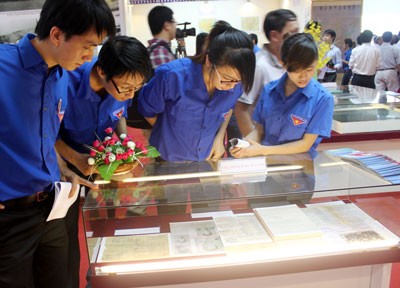 The exhibition attracts many young people. (Photo: Sggp)
The exhibition presents around 150 maps, documents, prints and scientific research data collected by foreign and local scholars and researchers.
Documents in Chinese, Vietnamese and French languages that were published during the Feudal Dynasty from the 17th to the 20th Century are on display.
A collection of 95 maps affirming Vietnam's sovereignty over Truong Sa (Spratly) and Hoang Sa (Paracel) archipelago were made in the 16th century.
Three atlases, published by China in 1908, 1919 and 1933, are also being exhibited.
The exhibition aims to support 'Vietnam Sea and Islands Week 2013' in Ha Tinh.