An exhibition of photographs on 101 Moments with General Vo Nguyen Giap opened at the Reunification Palace in Ho Chi Minh City, attracting thousands of people including military officers, students and visitors.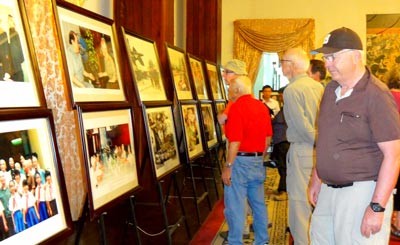 Foreign visitors at the exhibition in Ho Chi Minh City. (Photo:SGGP)
The exhibition features a selection of photographs by journalist Tran Tuan. This exhibition of 101 Moments with General Vo Nguyen Giap was displayed for the first time at 45 Trang Tien in Hanoi on the occasion of his 101st birthday and marked the 66th anniversary of the establishment of the Vietnamese People's Army.
Journalist Tran Tuan spent more than two decades of his professional life photographing General Vo Nguyen Giap, the architect of Viet Nam's military victory over the French and the Americans.
Tuan's sensitive portrayal of General Vo Nguyen Giap creates deep emotions for viewers. The exhibition displays thousands of black and white as well as colour photographs of Giap, portraying this great national hero who was well known not only for his genius on the battlefield, but  also for his kindness and generosity.
Tuan confessed that he was lucky to have the opportunity to have been in such close proximity to the general for 30 years. He accompanied General Vo Nguyen Giap on many trips within the country and abroad. Tuan felt truly blessed to have photographed the man loved and respected by all Vietnamese people. 
The exhibition is on till Saturday, March 26.
After the exhibition, journalist Tuan plans to hold other exhibitions in provinces nationwide as well as in Cambodia and Laos. The final exhibition is expected to be in General Giap's homeland – Quang Binh Province.