The Ton Duc Thang Museum, the Viet Nam Revolutionary Museum and the Russian Center for Science and Culture in Ha Noi have jointly organized the exhibition "Russia in the 20th century-Pages of History" at the Ton Duc Thang Museum 5, Ton Duc Thang Street, District 1, Ho Chi Minh City.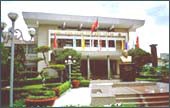 Ton Duc Thang Museum
The exhibition celebrates the 12th anniversary of the Russia-Viet Nam Friendship Association and the jubilee of the day when late President Ton Duc Thang (1888–1980) was awarded the International Lenin Peace Prize (1956-2006).
More than 250 documents, photos and objects are displayed to present the most basic events of Russian history.
The exhibition also focuses on the comprehensive relationship and cooperation between the two countries in the new period.

The display will last to the beginning of 2007.