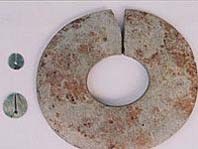 A big earing exhibited at the Museum 
Viet Nam's History Museum in coordination with Kon Tum Culture and Information Department has opened a special exhibition entitled "Secret from Lung Leng – Kon Tum" in Viet Nam's History Museum in Ha Noi.
Since 1999 when archaeological relics Lung Leng in Sa Binh Award, Sa Thay District, Kon Tum Province was discovered, this is the first time an exhibition with nearly 1,000 thousand-old documents, objects, stone devices, ceramics, metallurgy furnace, jewelry has opened to the public.
These relics were excavated at the pond in the Yaly hydroelectric plant.