French photographer Rehahn Croquevielle showcases different facial features and mood of Vietnamese children and elders through photos displayed at an exhibition in downtown Hanoi.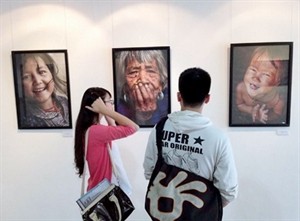 Radiant faces in photos taken by Frenchman Rehahn Croquevielle (Photo: VNA)
Entitled Visage, the exhibit displays 25 photos selected from thousands taken during trips to remote areas of Vietnam.
Born in France in 1979, Croquevielle came to Vietnam as a volunteer for a French charity in central Hoi An.
The beauty of his new home inspired him to take up photography. In the time since he has travelled to distant corners of the country to capture the lives of the nation's ethnic communities.
"I decided to take photos of children and old people because I love the children's innocent gaiety and the old people's open countenance," he said.
"The old people in my country look stately and grave while Vietnamese elders are open-minded and light-hearted. They are radiant with smiles."
"Children are natural, candid and generous. Their portraits are always pure and full of grace, even when they are sad. The elderly are wise and their faces are marked by time. The lines run deep across their faces, and they are the proof that the beauty has no age!" he said.
"Some people are poor, hungry and dirty, but their smiles are still beautiful and bright."
Early this year, Croquevielle released a book containing 150 pictures from his collection of 30,000 photos.
"As a photographer, I think Vietnam is a paradise. With so many colours and contrasts, Vietnam is an inexhaustible source of inspiration."
The exhibition will run until May 29 at L'Espace, 24 Trang Tien street.-VNA