An exhibition on the house at 48 Hang Ngang street where late President Ho Chi Minh wrote the Declaration of Independence kicked off in Hanoi on August 18 as part of activities to celebrate the 70th anniversary of the August Revolution (August 19) and National Day (September 2).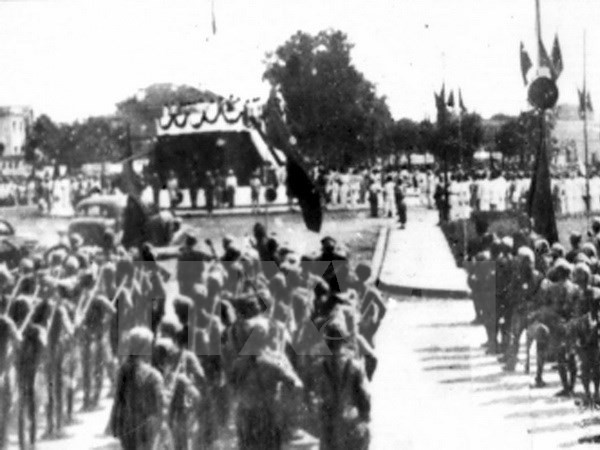 President Ho Chi Minh read Declaration of Independence on September 2, 1945 at Ba Dinh Square (Source: VNA)
The exhibits include 80 photos and items featuring the historical relic house and its ex-owners – patriots Trinh Van Bo and Hoang Thi Minh Ho, and the historical background of the Declaration of Independence and its significance.
The exhibition, which remains open to visitors from Tuesday to Sunday, aims to help visitors better their understanding of the historical value of the house.
The same day, another exhibition highlighting historical milestones of Hanoi and Vietnam also opened in the capital city and will run until the beginning of September.
Through 100 photos, the exhibition tells the story of major changes in Hanoi and the country at large over the past seven decades under the leadership of the Communist Party of Vietnam, spanning the August Revolution general uprising, the day President Ho Chi Minh read the Declaration of Independence (September 2) 70 years ago and present outstanding socio-economic development achievements.-VNA