Music lovers are surprised to see zitherist Van Anh use the 'Dan Tranh' a Vietnamese traditional sixteen-stringed zither to play Japanese music so absorbingly.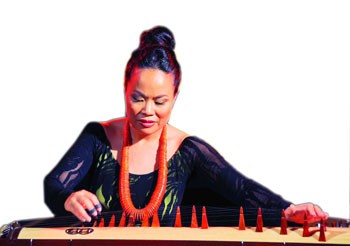 Zitherist Van Anh .(Photo: SGGP)
The Japanese songs are usually performed by 'Koto', a Japanese classical instrument.
Elegant-fragile-light and high tunes of the 'Dan Tranh' bring listeners to a Japanese space and images of 'Sakura' (Japanese cherry flower) gently falling.
 
Van Anh brings a breath of fresh contemporary life to the sounds of a Vietnamese 'Dan Tranh' while retaining its traditional soul. She wants to present the traditional Vietnamese sixteen-string zither to the world, said Professor Tran Van Khe, great master of traditional Vietnamese music.
After being crowned at the National Zither Contest 1995, Van Anh was chosen as the Vietnamese artist to represent Vietnamese traditional music in 20 countries such as France, the US, Italy, Thailand and China.
She has become known as an international musician after her compositions for the documentary film titled "Daughter from Da Nang". The film was awarded the Jury Prize for Best Documentary Feature at the 2002 Sundance Film Festival and nominated for the 2003 Oscar Academy Awards.
Among her accomplishments is the 2009 Emmy Award-winning soundtrack for the documentary Bolinao 52 that she co-composed and recorded with artist Mark Izu.
Expatriate musician Van Anh is living in the US. She released two albums of Vietnamese traditional music including "Twelve months, four seasons" and "She's not she" in the US.
She is the first Vietnamese musician to present Vietnamese folk music on KTSF 26 channel.
She has given many performances and introduced Vietnamese musical instruments in schools and libraries. Her students come from many countries such as Vietnam, India, Spain, the US and are of different age groups from 9 to 83 years of age.