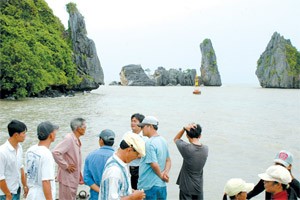 Scientists, engineers and government officials inspect the semi-collapsed rock pillars of Phu Tu on Tuesday
The 100 scientists, engineers and government officials, who inspected the semi-collapsed rock pillars of Phu Tu, on Tuesday discussed their findings at a special conference convened by the Kien Giang Province People's Committee and Sai Gon Giai Phong newspaper today.

For now the job is to come up with a feasible way of rebuilding and reinforcing the taller pillar, whose top half disintegrated early one morning in August.
The famous landmark on the coast of Kien Giang is actually two pillars of limestone karsts coming straight out of the sea. With one of them only half the height of the other, it's no surprise that they are called "Father and Son".
Their disintegration is blamed on saltwater getting into the cracks and weakening the rock structure sufficiently for the fierce weather of recent times to finish off the job.
A few days after the collapse, the Heritage Department of the Culture and Information Ministry wrote to the provincial authority permitting the restoration of the taller rock.