The songs of ABBA were revitalized on the stage of Hanoi Feb. 13 during a trans-Vietnam music tour entitled "FABBA and ABBA's Immortal Songs" conducted by FABBA – an ABBA tribute band from Australia.
The show started at 8:40 pm, 40 minutes later than scheduled, at the Giang Vo Exhibition Center. The Australian band sang the most famous songs by ABBA, a Swedish 'rock and roll' legend. The stage was designed in the format that ABBA used.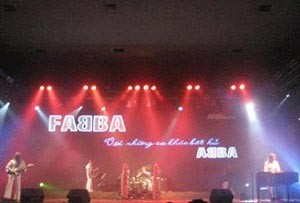 Hanoi show: the stage designed in the format that ABBA used (Photo: VietnamNet)
A repetition of the Hanoi show is scheduled in Ho Chi Minh City on Feb. 14, the Valentine Day, at Lan Anh Music Center.
FABBA's Vietnam tour is jointly organized by the AN5media company and the Australian Embassy in Vietnam. The band will leave the country on Feb. 16.
Anthea Johnson and Robyn Larymore sing in Hanoi Feb. 13 (Photo: Dat Viet)
Established in 1996 in Australia, FABBA has given hundreds of shows throughout the world. The band has seven members, including Anthea Johnson (as Freda), Robyn Larymore (as Angetha), Tim Johnson (as Bjorn) and Danny (as Benny).