Fahasa Book Distribution Corporation is sponsoring a weeklong Chinese book exhibition from now until October 8.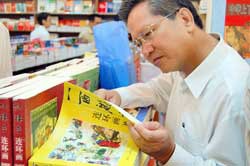 The display features 5,000 new prints with latest information on various subjects.
The exhibit features nearly 5,000 new prints and 20,000 copies worth more than VND4 billion (US$247, 000).

These books, with updated information on various subjects including fine arts, painting, handicraft, language, cookery, and health, are being offered at a 10% discount during the exhibition.

Some of the highlights are a collection of 22 Chinese dictionaries, children's books, and famous literary works, such as Journey to the West by Wu Ch'eng-en, Legend of Three Kingdoms by Luó Guànzhōng, Dream of the Red Chamber by Cao Xuěqín, and Water Margin by Shi Naian.  
The exhibition is located at the Xuan Thu Bookstore, 185 Dong Khoi Street District 1.