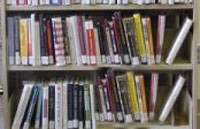 (Photo: Van Hanh)
The first ever competition themed "Family Book Shelf" will be organized as part of the fourth Ho Chi Minh City Book Festival, scheduled from March 20 to 26, 2006.


The competition is designed to support, honor and expand the reading culture and to present precious and valuable bookshelves.
All families in Ho Chi Minh City having more than 1,000 books on their shelves can take part in the competition. The books should be arranged systematically in content, value and show good preservation.
Many book prizes will be awarded to the winners, who will also receive a certificate issued by the Organizing Board of the Ho Chi Minh City Book Festival.
The competition will last till March 1, 2006.