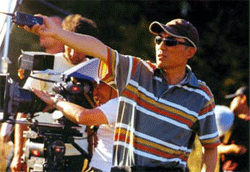 Chinese film director Zhang Yimou

According to Mr. Le Toan, Director of the Department of Culture and Information of Quang Ninh province, a Chinese enterprise with the attendance of film director Zhang Yimou made two surveys of the Ha Long Bay with one at the beginning of 2006 and the other in July to invest in building a studio in Ha Long Bay.
More than US$10 million will be invested in the project which is expected to kick off in 2007.
Film director Zhang Yimou is a famous Chinese film-maker who won many international prizes. His typical films are Judou, Raise the Red Lantern, The Story of Qiuju, To Live, Hero, etc. He is accredited with having discovered Chinese successful actress Gong Li.