Located in a small alley in District 10 in HCM City, the garden in the small house owned by sculptors Nguyen Sang and Lai Thi Kim Thanh is like an outdoor museum, featuring 500 statues of famous figures, both Vietnamese and foreigners.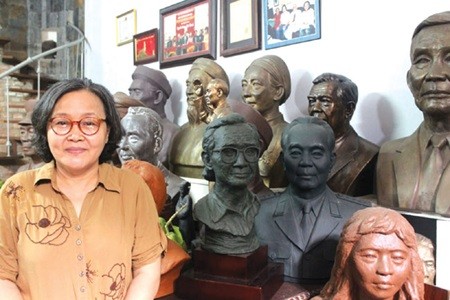 Surrounded by greatness: Sculptor Lai Thi Kim Thanh poses besides her statues of renowned historical figures. — Photo petrotimes.vn
The couple, Sang and Thanh, has been pursuing sculpturing for over 10 years. Though the time they dedicate to it might be less than what other sculptors put in, many of their works have been displayed in exhibitions nationwide and received high appreciation from the public.
The most impressive memories that sculptor Thanh include the three occasions when she had a chance to meet late General Vo Nguyen Giap, who inspired her to create many statues in her small house.
Each statue of General Giap catches a different appearance in different moments, among which his eyes and forehead are the most impressive features.
"I was filled with different emotions whenever I met him. Though General Giap was an army genius, he was very genial and modest. Each meeting inspired me to create a statue of him, many of which have been purchased by people who wanted to worship him at home. The great proportion of the money we earned from selling statues serves as scholarship for poor and studious students in our hometown in the southern province of Long An," Thanh said.
Till now, the two sculptors have contributed to building statues at 12 schools, with an aim to remind the young generation to be grateful to national heroes who dedicated their lives to the nation's development.
Most recently, Pham Ngoc Thach University of Medicine inaugurated the statues of doctor Pham Ngoc Thach and professor Duong Quang Trung, which were created by Sang and Thanh.
However, it is surprising that both the sculptors did not professionally train for the trade. Thanh used to be a chemistry teacher at a high school in the southern province of Long An, while her husband, Sang, used to take up many different jobs to make ends meet.
It was fate intervening when they met To Sanh, a master sculptor who has created 300 statues that have been listed in Viet Nam Guinness Book of Records. Sang and Thanh were taught the art of making sculptures by Sanh in only six days, from the third to the eighth day of the lunar new year in 2004.
Then onwards, the couple learned how to sculpture themselves. It took them up to ten days to finish their first work, but that did not discourage them.
Thanh said she still remembers clearly the sculptor and also what their teacher Sanh taught them. "There is so much to learn in this world, and it is not easy to achieve fame even when you get old."
These words have been a great encouragement for Thanh and Sang to persistently pursue sculpturing over the past ten years.
Sculptures require the artists to have skilful hands, unique characteristics and an ability to read facial features, so that they can create soulful works which can evoke emotions among viewers. Some of the most successful works of Sang and Thanh are the statues displayed at the exhibition dedicated to Vietnamese heroic mothers and other heroic female figures at the Women's Cultural House in HCM City, which have moved many viewers to tears.
Their passion for the vocation has encouraged the artist couple to enthusiastically pursue their job, despite all the financial difficulties they encountered.
Everyday, Sang and Thanh continue to add new works to their garden of statues, which barely has any spare space left.
"This is the work project that we invest ourselves in. As long as we have enough strength, we will continue to create more statues and we look forward to receiving cooperation to open an exhibition soon, so that young Vietnamese generation can learn more about the historical values as well as follow the examples of the national heroes."