The lacquer paintings Hoi Chua (Buddhist pagoda festival) created by Le Quoc Loc in 1939 and Bac Nam Mot Nha (Unification of North and South) by Nguyen Van Ty in 1961 have been restored to their former glory thanks to hard work by skilled Vietnamese artisans and a US$20,000 donation from the Ambassador's Fund for Cultural Preservation of the United States.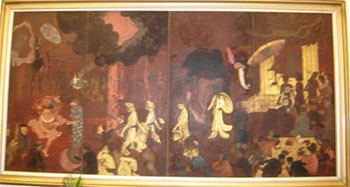 The Hoi chua (Buddhist pagoda festival)

The damage wrought over decades by Viet Nam's hot and moist climate was the chief reason for the sorry state of the two famous paintings before the repairs began.
It took ten months of painstaking work to restore the original aesthetic value and extend the life of the paintings, which are on display at the Viet Nam Fine Arts Museum from today.
The Ambassador's Fund for Cultural Preservation was established by the U.S. Congress in 2001 to assist developing countries in, as the name suggests, cultural preservation, and to demonstrate the respect of the United States government and the American people for other cultures. Since starting up, the fund has provided US$2.8 million for 87 projects in 76 countries.