Minh Phung, a famous cai luong artist, died yesterday at Cho Ray hospital.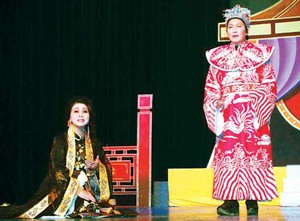 Minh Phung (R) is on the stage. (Photo: SGGP)
Minh Phung, real name Ngo Van Thieu, came from My Tho, a city west of Ho Chi Minh City. He fell in love with vong co and cai luong (Vietnamese folk opera) and decided to follow his heart to become a performer.
He was one of three famous Vietnamese folk singers and actors. Alongside Minh Vuong and Minh Canh, Minh Phung became famous in the 1960s and 70s.
Having a beautiful singing voice and handsome looks Minh Phung had tremendous success in his early career. Regardless of which troupe he was with, Minh Phung was welcomed with open arms.
His attractive looks and captivating voice quickly began to be noticed by audiences and troupe owners alike. The Kim Chung Company invited him to join them and gave him leading roles, acting alongside famous actresses such as Ut Bach Lan in the play 'Trinh Tiet Mot Loai Hoa'. He also performed with My Chau in 'Bich Van Cung Le Su', Dieu Hien in many Chinese-adaptations, and later with Le Thuy.
Minh Phung was receiving treatment for kidney problems. He was 64 years old.
Minh Phung's memorial service will be held December 4 at 791/7 Tran Xuan Soan street, district 7. Phung will be buried at Nghe Si temple in Go Vap district the same day.