Thousands of rock fans rushed to the Ho Chi Minh City Youth Cultural House on Saturday night to enjoy the best songs performed by Vietnamese and foreign singers and bands.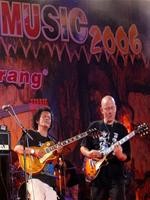 The Curtis King plays rock on the open-door stage

The regular gala music program is scheduled to cater to the taste of the city's youngsters. Themed "Rock – I love you", the open-door show excited young fans, generating the heat from the audience to the singers like Gemma and Melody from the Philippines and many others.

Two Vietnamese seasoned singers, Elvis Phuong and Hong Hanh also turned up and received warm support from the audience.

In the heat of the moment, Viet Nam's one-time rock band Da Vang shook fans by immortal songs like Come together (the Beatles), We will rock you (Queen) and Sunshine of your love (Cream).

Curtis King band said goodbye to the audience, who went home pleased with a wonderful night of non-frontier rock music.