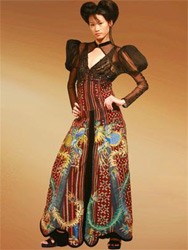 A design of "Butterfly" collection
Fashion designer Minh Hanh, who is touring China at the moment, will take part in the Chongquing Fashion Show in Nanping this Friday.
The director of the Ho Chi Minh City-based Fashion Design Institute will present her 50-strong "Butterfly" collection of modern outfits made of silk, taffeta and brocade from ethnic highlanders, all of the pieces hand-embroidered with ancient images and stylized patterns.
Also present in the Chinese city's Grand Hall International Exhibition Center of the Garment Industry and showing off their collections will be leading designers Kim Bernardin of South Korea, Zin Kato of Japan, Eric Choong of Malaysia, Wilson Lee of Hong Kong and Hsu Chiui of Taiwan.