Renowned Vietnamese saxophonist Quyen Van Minh and his son Quyen Thien Dac will give special jazz shows in Ha Noi and Ho Chi Minh City this April.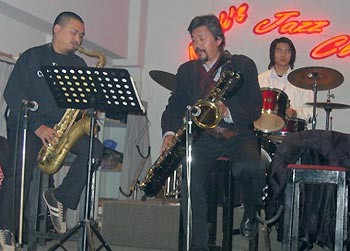 Quyen Van Minh (C) and his son (L)
Quyen Van Minh is among the pioneers of jazz music in Viet Nam. He is also the teacher of many of the country's celebrated saxophonists, among them his son who is the first Vietnamese student to graduate from the Becklee College of Music in the U.S. Though they are famous names, Quyen Van Minh always says, "We are only amateur saxophonists."

After nearly ten years of preparation, the "Father, Son and Jazz" show will be held at the Ha Noi Opera House on April 6 and at the Hoa Binh Theatre in Ho Chi Minh City on April 14.
In the two shows, the saxophonists will play selected jazz works by Harold Arlen, Charlie Parker and Bill Evans as well as six jazz pieces from Viet Nam, four of which they composed themselves.

Quyen Van Minh has been living with jazz for forty years, and expresses his hope that the performances in "Father, Son and Jazz" will touch the hearts of their listeners.