A gigantic ceramic mosaic flag of Vietnam was built on Truong Sa Island--one so large that it was visible from space via satellite imagery such as Google Earth, and one that proclaims Vietnam's sovereignty of Truong Sa archipelago.
The ceramic mosaic national flag of Vietnam was made by journalist and artist Nguyen Thu Thuy, who received recognition from Guinness Book of World Records for her achievement in creating mural paintings on occasion of Hanoi's millennium. Ordinarily, not many people would give much notice to an unobtrusive and humble woman like Thuy, who in her own quiet way managed to create such an incredible sculpture.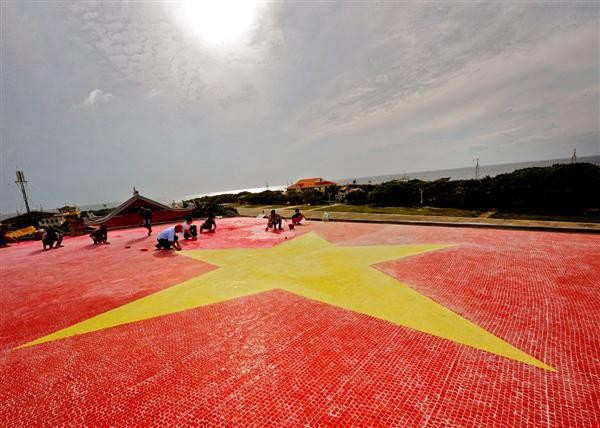 The ceramic mosaic national flag of Vietnam on Truong Sa Island.
With a deep-seated idea to do something meaningful to proclaim Vietnam's sovereignty over Hoang Sa and Truong Sa archipelago, artist Thu Thuy came up with this daring and bold yet highly imaginative project to sculpt a giant ceramic mosaic flag of Vietnam and four mural paintings on Truong Sa Island.
Thuy said that at the beginning she deliberated a lot on the kind of material to use and the way to carry out her project amid severe and hostile weather conditions on Truong Sa Island. In addition, carrying out such a huge project on a remote island came with its own challenges.
To make this possible, she wrote a letter to present her idea with a sketch of the flag and the mural painting to the Ministry of Defense and the High Command of the Navy who approved her proposal and started a field research in December 2011 to choose the location for the project. They finally settled on the roof top of the meeting hall on the island.
Thuy says that in order to create the scarlet color for the tiles she had to study the durability of ceramic enamel under contact with salinity at sea from objects lifted off shipwrecks in Cu Lao Cham in Quang Nam Province, Hon Dam in Kien Giang Province, and Hon Cau in Vung Tau City.
Artisans from Bat Trang trade village, which is famous for producing a unique style of ceramic called Bát Tràng Porcelain, also said that it was difficult to create the scarlet color enamel for the tiles. The color can only be created at a temperature of 1,200 degrees celsius and requires very strict control of temperature during the firing process.
After three months of hard work on the island, Thuy and her team were able to complete the gigantic Vietnamese flag with 310,000 ceramic tiles and covering an area of 310 square meters and four large mural paintings on two walls which measure 2.8 meters in height and 9 meters in length.
After the opening ceremony on June 6, 2012, Thuy's work was given recognition by the Vietnam Book of Records as the largest ceramic national flag of the country.