The Ngan Ha Female Painter Club under the HCMC Women's Culture House is celebrating its 10th anniversary with a first-time exhibit at two venues.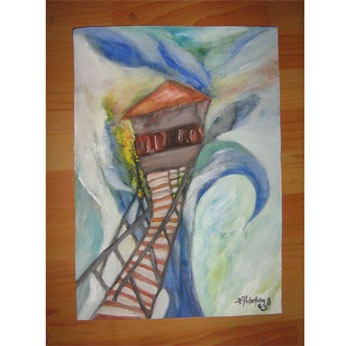 Do Thien Huong's "Memory on Tarzan House" on display in HCMC (Photo: Truong Son)
Works will be showcased at both the HCMC Women's Culture House and HCMC Fine Arts Associations' exhibition house.
The exhibit "Hoi ngo thang 10" (Meeting in October), highlights paintings by 20 members of all ages. The event also celebrates the 28th anniversary of the HCMC Women's Culture House and a collaboration of both young and old artists.
The leader of the senior generation, painter and poet Le Thi Kim, presents oil paintings featuring the soft beauty of traditional Vietnamese women while her younger co-members, Nguyet Que and Hong Linh, take a more contemporary angle using bold colors to create partial abstract paintings.
Other local painters including Phuong Mai, Thuy Hong, and Xuan Dieu present breathtaking still-life works.
Representing the younger artist generation, painter Do Thien Huong showcases her talent ranging from spectacular oil paintings to watercolor works.
With six paintings on display, artist Do Thien Huong proves her talent is not limited to a particular field or style as she relates the beauty of the sea in southern Phan Thiet City and the quiet splendor of the Central Highlands.
"The sea's beauty is always a nice inspiration for painters, but for me, I want to draw some hidden beauty out of it, something that nobody has touched or felt before," Huong said.
Other paintings by Huong include: Duong len son cuoc (Way to Mountainous Region), Thieu nu  cao nguyen (Young Women in the Highland), and Ky uc nha Tarzan (Memory on Tarzan House)
The display at the HCMC Fine Arts Association's exhibition house (218a Pasteur, District 3) will remain open until October 23 while its sister exhibition at the HCMC Women's Culture House (192-194 Ly Chien Thang, District 3) will run until late October 17.