More than 3,000 people, together with cai luong singers and playwrights from Ho Chi Minh City and Mekong Delta provinces, took part in the opening ceremony of a cai luong festival at Bac Lieu Province Convention Center September 29.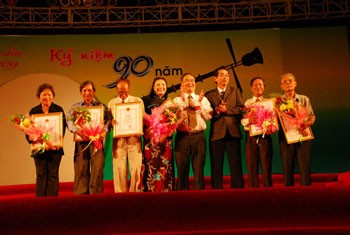 Artists receive flowers and certificates of merit from the organization board in the opening ceremony of the cai luong festival on September 29. (Photo:TTO)
The event features many cultural activities, such as a special performance celebrating the anniversary of the ancestor of cai luong by Cao Van Lau cai luong troupe; national professional cai luong theater festival with attendance of 19 cai luong troupes; releasing lanterns in Bac Lieu River, visiting the grave of the late cai luong composer Cao Van Lau; and presenting the Cao Van Lau Award for contributions to art and literature.
There are also seminars and an exhibition of the life and career of Cao Van Lau, as well as a trade and tourism fair.
The festival aims to praise the beauty of Bac Lieu, honor the late cai luong composer Cao Van Lau and describe his life and career, as well as commemorate the 90-year-old cai luong song "Da co hoai lang" (Missing husband whilst hearing drumbeat at midnight).
The cai luong composer Cao Van Lau was born in December 22, 1892 in Long An Province and moved to Bac Lieu at the age of four, and died in 1976.
He wrote the immortal cai luong piece "Da co hoai lang" in 1919, which tells the story of a wife who waits for her husband to return from the battlefield.
The song is the most popular of cai luong works and is regarded as an invaluable spiritual property of the nation's musical history and Southern people.
The festival will run until October 3.

Related article:
Delta province set to hold cai luong festival