A festival to commemorate the legendary national hero Saint Quy Minh was held on April 17 in the northern province of Ninh Binh.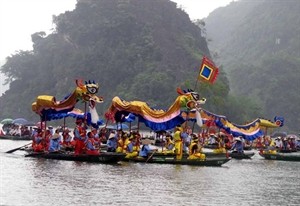 Festival commemorating Saint Quy Minh in Ninh Binh province. Photo: VNA
Vice President Nguyen Thi Doan and thousands of tourists from both home and abroad joined the annual event in celebration of the saint, who made great contributions in defending the country. They could join an incense-offering ceremony at Tran Temple in the local Trang An-Bai Dinh spiritual tourism site.
Legend has it that Saint Quy Minh is one of the three Vietnamese to have been bestowed with sainthood, alongside Tan Vien and Cao Son. They are honoured for protecting the country under the reign of 18 th Hung King, Due Vuong (408-258 BC).
Tran Temple, where the Saint is being worshipped, was built by King Dinh Tien Hoang (924-979).
Local authorities are paying great attention to integrating festive activities with tourism promotion programmes. They wish for international support to help name Trang An scenic landscape complex as a Natural Wonder of the World.-VNA