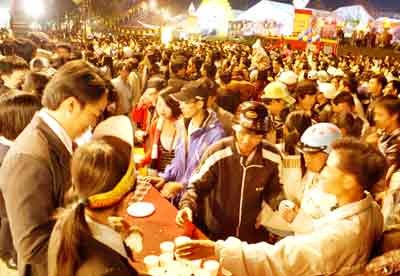 Visitors enjoy wine at the end of the Da Lat Flower Festival on January 4 (Photo: SGGP)
The Da Lat Flower Festival ended January 4 with an event called "Flower and wine roads" at Xuan Huong Lake with the attendance of thousands of local and foreign visitors.
The week-long festival, which has become an annual cultural event in the central resort town of Da Lat, attracted over 60,000 visitors.
A series of activities and exhibitions comprised the festival including flower-filled streets, flower towers, and flower islands in the city center.
In addition, an international exhibition of blossoms and bonsais, and a flower parade to honor the flower-growing industry delighted festival-goers.
Blossoms spilled out onto the streets of Ba Huyen Thanh Quan, Le Dai Hanh, and Ho Tung Mau all the way to Lien Khuong Airport.
A wine exhibit introduced visitors to local Vietnamese and international wines from France, Italy and Spain. Guests walked along flower-filled streets while sampling beverages and listening to presentations.
A total of 10 national records were also set during the festival including one for a giant 8-meter pavilion made from hundreds of thousands of daisies by more than 1,000 students; and one for the largest flower Buddha statue in the country.