Since Valentine Day falls into the fifth day of the lunar new year, fewer festive activities are organized like previous year.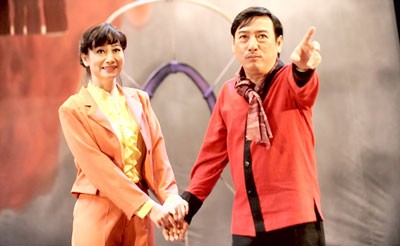 Actor Thanh Hoi and actress Tuyet Thu in Reincarnation Drama (Photo: SGGP)
On this day, Tai sinh (Reincarnation) of author Nguyen Thi Minh  Ngoc , Hoang Thai Thanh and Tinh nhan den voi tinh nhan (Lover to lover) of director Luong Duyen at Hoang Thai Thanh Theater on 4PM and 8PM

Reincarnation sends a message to viewers that if it is heartfelt love, lovers will get together despite various barriers.

Meanwhile Phu Nhuan Theater show twos dramas Trang mau (Blood Moon) of Xuyen Lam author and director Diep Tien; Cuoi gium (Marriage) of director People's Artist Hong Van and So dao hoa (Lucky in love) of author Nguyen Minh Phuong and director Hoa Hiep.
Of them, Blood Moon is a horrible drama for those who are frightened by ghost stories while the remaining are comedies.
 
Horror drama lovers can enjoy at Superbowl Theater where display three such dramas Can ho 404 ( Flat No.4040 of director  People's Artist Hong Van; 2-4-6 (Even days) and 3-5-7 (Odd days). Comedy and cai luong or southern traditional opera lovers should come to Art Performance center at 148 Cong Quynh Street, in district 1.