Most of the entertainment venues across the city are bustling with activity and full of crowds, out to join in the fun and excitement pervading the city this Christmas and New Year season.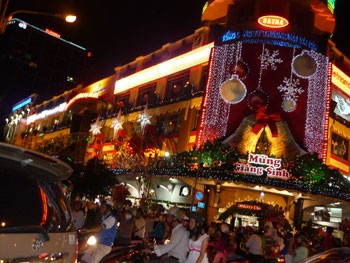 Christmas, New Year atmosphere pervades the city's business center. (Photo:KK)
Dam Sen Cultural Park is set to lure visitors with comedies, musical and dance performances such a Christmas Dance and Gala X'mas 2011 on December 24-25. A special program welcoming the New Year including concerts, an ice sculpture exhibition and a low-range fireworks display will be held from December 31 to January 2.
Suoi Tien Tourist Area is decorated like a white snowy forest and mountain. Santa Claus will also offer gifts to children.
Various amusement activities, folk games, music and dance shows will take place at Dai Nam Tourist Area in Binh Duong Province and Saigon Zoo and Botanical Gardens in Ho Chi Minh City.
Meanwhile special children musical performances are expected to attract a large number of little audiences to Ho Chi Minh City Children's Cultural House on December 24-31.
On the occasion, Phan Thi Culture Company has released a collection of poetry and stories, puzzles and coloring books for Christmas and New Year.
A New Year festival including numerous activities will be held at the 23/9 (September 23rd) Park in District 1 on December 26-31. A special concert will attract young people to the park on New Year's Eve.
New Year festivities will also take place in many universities, colleges and industrial zones throughout the city.
A Christmas festival themed "Around the world" featuring the X'mas atmosphere in five countries with various activities such as a hip hop dance competition, Cosplay Masquerade Performances, street art show will be held in Saigon Zoo and Botanical Gardens on December 23, 24 and 25 by the Yeah1 TV channel. Additionally, 22 artists who have made outstanding contributions will receive the Yeah1 Choice Award.