The second exhibition of paintings by the Sai Gon Lacquer Group at the HCMC Art University clearly exemplified the present status of lacquer art.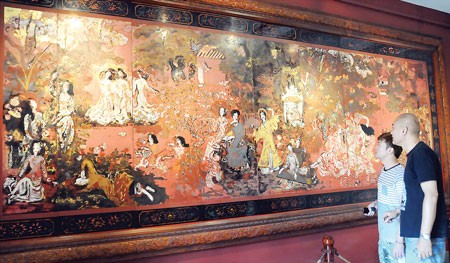 Viewers enjoy a lacquer painting by Nguyen Gia Tri at HCM City Museum of Fine Arts.
In spite of being recognized as a unique traditional art form of Vietnam, the development and growth of this art has not yet been given its due.
The exhibits in the New Year gallery comprised of diverse styles with many established artists along with other teachers and students from the university participating in the show.
The diversity of styles was apparent in Hoang Tram's experienced arrangement of layouts and materials, in the innovative paintings of Dao Minh Tri and Bich Tram, as well as in the conventional yet original drawings of Vo Nam.
Some younger painters like Pham Thanh Tam and Nguyen Huy Bac conveyed a bold style in their creative use of ideas and materials. Ngo Viet Hung and Le Duy expressed their passion for lacquer in their representation of present day society from various perspectives.
Within the many different styles presented by the artists, there were present an equal number of techniques and materials used to create the magic of the mysterious appeal of lacquer painting.
It is also clear that despite the attractiveness of this art form there were many obstacles ahead for lacquer painters. According to artist Vo Nam, Vice Director of the Applied Art Center in HCMC Art University, few artists can now survive on lacquer painting alone.
Most of the art galleries gave higher preference to oil paintings and lacquer painting sales were comparatively very modest.
An artist was once known to have "bet" his land to get enough money for his research and pursuit of a career in lacquer painting. (As the story goes of artist Nguyen Van Thanh of Soc Trang province).
Although finding a lucrative market for lacquer painting is quite hard, many artists like Nguyen Quang Son chose to put every available opportunity in his hometown to his advantage.
He set out to revive the one-time very famous traditional lacquer craft village of Tuong Binh Hiep in Binh Duong in the south of Viet Nam. His goal was to utilize the past Thu land lacquer material to supplement the present lacquer art.
Artist Vo Nam was greatly appreciated by Chinese, Korean and Japanese colleagues when participating in an International lacquer painting exhibition in China along with artist Tran Khanh Chuong of Hanoi. That was a glorious highlight of Vietnamese lacquer art.
Practically speaking, Vo Nam remarked that equipment in painting studios used for practice of techniques and different materials, and especially the training of human resources to improve the quality of lacquer painting should be the main focus of learning.
Though lack of funds and support from investors, impeded the development of Vietnamese lacquer painting.
The recently opened Ham Long Art and craft village in District 2 is a promising sign of new activity and interaction between artists, gallery owners and visitors.
The question is whether the lacquer painting art form should maintain its rich cultural identity and talented craftsmen and artists be used to promote this art form through schools, craft villages and for cultural tourism which would then enhance the development and promotion strategy for culture, tourism and economy?