Lack of large film studios and other technical filming facilities in Vietnam are a huge handicap for most film directors and producers attempting to make historical films.
Director Dao Ba Son says that due to lack of proper studio facilities in making 'Long Thanh Cam Gia Ca' (Tale of a Songstress in Thang Long Citadel), the film crew had to shoot at an actual location which had to be repaired and restored, and this caused a big waste of time and money.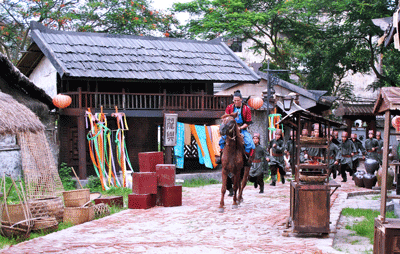 A historical film being shot in Co Loa studio (Photo: SGGP)
Director Phuong Dien shared how he had to hire a house for shooting a social film. At first the owner of the house agreed to rent his premises, but changed his mind later after seeing so many crew members coming to his house. Also, people straight away refuse to rent their house if they know there will be a funeral scene or police arrest scene filmed in the house.
Director Luu Trong Ninh tells of the benefits of having a professional film studio, especially to make period films. He said when he was making the film 'Khat Vong Thang Long'; he restored an old place for a scene at a huge cost, only to dismantle it after the shoot.
Accordingly, he proposed that a studio be built with ancient houses and antique items for filming period time scenes, so as to reduce costs. 
Nevertheless, some directors warn that artists and cameramen have to be trained properly for making films in professional studios or else audiences will see fake backdrops which will take away from the authenticity of the scene.
Ho Chi Minh City had given 50 hectares of land in Cu Chi District in 2001 to make a film studio; however, the land is still vacant.
Meanwhile, the 15 hectare Co Loa studio in the suburbs of Hanoi will begin construction of the first phase at a cost of VND106 billion (US$ 48,200), after lying in lumber for a long time. The as yet incomplete Co Loa studio has seen the making of many classic Vietnamese movies, such as "Chung Mot Song Song" (Sharing a river), "Ngheu, So, Oc, Hen" (Oyster, Shellfish, Snail, Mussel) and "Chi Tu Hau" (Mrs. Tu Hau).
Recently, the historical films titled "Huyen Su Thien Do" (Legend of Relocating the Capital), "Thai Su Tran Thu Do" (Great Tutor Tran Thu Do-founder of Tran Dynasty) or "Thien Menh Anh Hung" (Born to Be a Hero) were also shot in the studio.
The studio is expected to be complete by 2015.
Another studio over 1,200 hectares in the Mekong delta province of Long An is deemed to be Vietnam's largest studio. It has investments from the Khang Thong Corporation to the tune of US$400 million. The construction work of the studio has just completed.
Several small studio facilities such as at the BHD Company in District 9 or Chanh Phuong Company in District 12 have proved helpful despite their existing tiny space.